Webinar Summary: 6 Tactics to Recruit & Retain Clinical Staff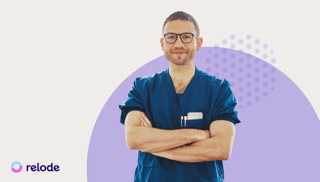 Healthcare leaders are seeking innovative strategies to optimize and balance their healthcare system's travel nurse usage now more than ever.
With the industry facing unprecedented talent shortages and an increasing focus on burnout, HR and TA teams need a fresh approach.
Tonya Truelove, Head of Partnerships at Relode, spoke with Steve Koerner, CEO and Co-founder of Velocity HCM Consulting Group, and Scott Foster, Director of Executive and Provider Recruitment at Phoenix Children's Hospital, about this pressing situation during a recent webinar.
They discussed practical tactics, insights, and first-hand strategies from top healthcare brands to help organizations set their hiring strategy on a path to success.
You can download a recording of the webinar here or continue reading our summary of everything discussed.
The State Of Travel Nursing In 2023
We have a wealth of data about travel nurses, but the same principles apply to various types of providers. According to key healthcare statistics:
Total spend on travel nurses skyrocketed from $5 billion in 2018 to a staggering $42.5 billion in 2022 due to the pandemic.
Over 60% of all healthcare staffing spend went to travelers in 2022.
The Decline Of Travel Nurses
During our webinar, we polled attendees and learned that travelers comprise just 10% of their clinical workforce, significantly less than in 2022. This tracks with similar trends:
So far, travel nurse spend is down 21% in 2023 compared to figures from 2022.
Projections reveal that total spend on travelers may average $30.5 billion in 2023 and drop further to $27.5 billion in 2024.
Organizations can no longer spend what they were on contingent workers and still be able to sustain top patient care moving forward.
The Benefits Of Travel Nurses
Rather than rely solely on travelers to provide patient care, we believe contingent workers should be one of the levers your organization can pull to:
Provide patient care during the unexpected, like a global pandemic, natural disaster, or seasonally high demand (flu season).
Staff during hypergrowth. Whether staffing new locations or adding new service lines, travelers can care for patients while full-time equivalents (FTEs) are recruited, certified, and hired.
Provide staff with new knowledge. Your permanent staff can learn from travelers with different experiences and systems knowledge to become better providers.
Attract permanent employees. A travel contract gives organizations a "try before you buy" model to see whether they'd like to recruit travelers who demonstrate alignment with their mission and teams.
What Motivates People To Become Travelers? (or Not)
When considering your recruiting and retention strategies, it's essential to understand the human element behind why individuals do or don't travel.
Based on recent surveys, the biggest reasons healthcare workers choose not to travel include:
Being with family (69%)

Having consistent income/stability (61%)

Wanting to live at home (48%)
However, many people enjoy traveling due to the:
Adventure. Travelers can scope out different cities and healthcare systems before deciding the right permanent option for them.
Opportunities to gain diverse work experience. Nurses frequently leave facilities with fewer opportunities to gain experience in different specialties. Those with managerial aspirations believe a comprehensive portfolio of experience will make them more attractive candidates for future leadership roles.
So, how do healthcare organizations keep their talented staff from accepting traveling positions?
3 Healthcare Retention Tactics
To reduce your reliance on travelers, stabilize your clinical workforce, and ensure you can deliver the care your communities deserve, our experts recommend putting these retention strategies into practice:
1. Offer Internal Travel Opportunities
Travel remains a risk to your current team. We're seeing more healthcare organizations creating programs to allow their current FTEs to travel throughout their system between various locations and specialties.
To make an internal travel program work, Scott Foster of Phoenix Children's recommends that teams:
Act as an internal travel agency. Decide which locations, shifts, and contracts will be offered. Determine increased pay, per diems, and financial perks like sign-on bonuses to compete with travel nurse incentives.
Market the opportunity. Many people are looking for nursing gig work. Whether they want to pick up extra shifts or work part-time as they ease into retirement, let everyone know a per diem or PRN option exists.
Get leadership and management buy-in. Leaders will appreciate fewer turnovers and the benefit of more covered shifts.
Scott said this worked "incredibly well" at Phoenix Children's Hospital.
2. Consider Retention Incentives
Understaffed teams pay a premium for travelers while they backfill. We're seeing more organizations adopt:
Internal "Sign-On" Bonuses. Scott's team offered a bonus to employees willing to go from day to night shift for one year. The incentive helped staff critical areas while the bonus retained talent.
Career Mapping. Scott also said that employees are more likely to stay when they know what their career progression within the organization looks like, what it takes to get there, and what they'll gain.
Retention Pay or Stay Bonuses. Allocate a portion of your vacancy dollars to your understaffed teams to thank them for their help covering shifts, picking up slack, etc., while you backfill.
Relode partnered with an organization that divided its vacancy budget into three parts:
Contract nurses to temporarily provide patient care while recruiting and sourcing FTEs.
Permanent hiring to leverage our network of specialized healthcare recruiters to get their team fully staffed again.
Read the case study to see how we helped this small TA team deliver big hiring results.
3. Leverage Retention-Based Recruiting
As staffing demands continue to rise and candidate pools become more challenging to access, organizations will succeed based on how well they recruit and retain healthcare talent.
Retention-based recruiting focuses on finding and hiring qualified candidates and ensuring these new hires stay with your organization long-term.
Our experts said they've seen success with this when teams:
Leverage predictive data analytics with behavioral-based interview questions. Scott believes asking questions about past behavior may help predict future performance. Steve noted that

AI-driven data analytics

helps teams anticipate how likely a new hire will stay, perform well, advance, etc.
Check-in at key touchpoints during the first 90 days. This critical window of time is vital for connecting new hires and employers.

Create an engaging onboarding process

, check in after the first week and again in 30, 60, and 90 days, engage in career mapping, and show employees how your organization values their contributions.
According to Scott, "If you take the time to focus on each new hire as a unique individual of worth, I promise your retention will go up and your turnover will go down."
3 Healthcare Recruiting Tactics
In today's landscape, you never stop recruiting. To hit your clinical hiring objectives and drive a consistent candidate funnel, our experts suggest:
1. Harnessing Data for Success
We've seen an increasing trend for TA teams to provide updates and data to the CHRO and the CEO, executive team, and board of directors. Stakeholders want to understand the talent pipeline and the TA team's strategy for success.
We witnessed this first-hand during our partnership with growth-focused HarmonyCares. Their CTO harnessed the power of Relode's powerful AI-driven hiring analytics to learn:
The supply and demand of talent in specific markets
Which organizations they were competing with for talent
Market average salary comparisons
Leveraging this data enabled them to become a powerful advisor to their leadership team and:
Choose the right markets for expansion
Set realistic sourcing and hiring expectations
Craft competitive compensation packages
There's more to the HarmonyCares story; read the case study here.
Steve said that the three most important hiring metrics organizations now focus on include:
Cost-per-lead (CPL) to understand the candidate quality and cost-effectiveness of various lead generation channels and marketing campaigns.
Cost-per-hire (CPH) by source to assess the ROI of each recruiting channel and better allocate resources to those bringing the highest-quality, most cost-effective results.
Time-to-fill (TTF) to identify bottlenecks, prevent the loss of in-demand candidates, improve efficiency, and enhance ROI.
2. Implementing a Scalable Sourcing Strategy
A report from Madeline Laurano at Aptitude Research revealed that 75% of healthcare organizations are unhappy with their sourcing. She says searching a database and hoping someone replies to your message is no longer good enough to meet the current or future healthcare staffing demands.
That's exactly why we built Relode.
Our precision recruiting engine, AI candidate matching, and expansive network of recruiters amplify your existing TA team and connects you to undiscovered talent reservoirs. Our recruiters, sourcers, and networkers find qualified talent and to fill all types of hiring needs quickly, so TA teams can concentrate on moving candidates through the hiring funnel.
As you compare partners and tools in this new era of scalable sourcing technology, evaluate their:
Efficiency. How does the company use AI and machine learning (ML) to make sourcing more efficient at scale?
Guarantees. How do you know that you will gain guaranteed candidates who meet your qualifications?
User experience. How difficult will it be to adopt and implement this new solution for your TA team?
Cost transparency. Are there additional or hidden fees as you scale? Is there a measurable ROI?
There's proof in our results. See how top healthcare brands gain a competitive edge with our innovative hiring solutions.
3. Optimizing the Candidate Experience
A positive candidate experience leads to:
More quality direct applicants
Lower candidate dropout rates
Reduced sourcing and advertising costs
Improved offer acceptance rates
However, most TA teams never go through the application or hiring process from a candidate's perspective. Understanding what applicants see is critical for learning whether these stages are helping or harming your efforts.
To improve your candidate experience, our experts discussed how to:
Enhance your career site and job portal so an applicant's first impression of your company is positive and easy to navigate on all devices.
Get more functionality out of your ATS. Dive into less-used features to automate, save time, and evolve your process.
Boost candidate engagement with a CRM and SMS messenger. Data funneled from your ATS to these outreach methods can help build your pipeline and keep leads warm.
Ready for Human-Driven, Technology-Backed Hiring?
The leading healthcare brands are zeroing in on these trends to improve their care models, intelligently staff their facilities, and reduce expensive contingency spend.
If you want to hear more from these experts about how to start implementing these retention and recruiting tips, listen to the full webinar recording here.
Join the Recruitment Revolution With Relode
Navigating the intricate realm of healthcare hiring requires an innovative approach. So Relode's ushering in a new era where healthcare hiring solutions align seamlessly with your organization's goals.
Combining our precision recruiting engine, powerful AI technology, and expansive network of talent connections, you can rely on us to fulfill your permanent, contract, locum, and part-time healthcare recruiting needs nationwide.
Stop spinning your wheels trying to fill roles the traditional way. Learn more about how Relode's game-changing solution challenges the status quo and expertly delivers qualified candidates faster.