Shifting to Data-Driven Hiring: A Case Study with HarmonyCares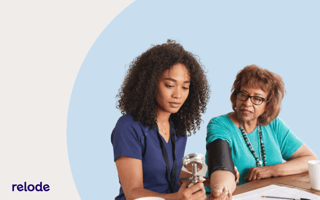 It's challenging for organizations to navigate the complex layers of healthcare talent acquisition while the industry remains in flux.
Labor shortages are getting progressively worse. With fewer available candidates, teams must use data-driven strategies to compete for top talent and expand into underserved markets.
HarmonyCares knows what it takes to achieve these goals. They provide in-home assessments, primary home-based care, and home health and hospice services throughout the US.
So we spoke with Lorraine Quintanar, Chief Talent Officer at HarmonyCares, about why leveraging real-time labor market data is the key to their success.
In this case study, you'll discover how her team harnesses the power of Relode and iCIMS to make smarter, faster talent management decisions and mitigate the risks of growing their footprint.
The Issue: Time-Consuming Data Mining for Labor Market Insights
Real-time labor market data is the only constant in the ever-changing world of healthcare talent management. It overviews candidate supply and demand, compensation averages, diversity, and more according to job title and location.
However, healthcare organizations lack time to invest in raw data collection, analytics, and mining for valuable intel and patterns. That's why Lorraine's team struggled with:
Expanding into new markets. Growth mode requires understanding how much it will cost (in time, resources, and money) to acquire talent in new locations. They needed a partner to highlight low-risk, high-ROI growth strategies.
Anecdotal vs. data-driven talent acquisition. Without data to identify the labor landscape in each market, hiring managers were "flying blind." They used intuition rather than facts to decide compensation, sign-on bonuses, and timelines for filling roles.
Lorraine aimed to give her recruiters and hiring managers "every tool and sourcing lever available" to increase their efficiency and effectiveness.
The Solution: iCIMS + Relode Insights
Lorraine and her team recently implemented the iCIMS Talent Cloud. This wholly integrated solution creates a seamless, efficient process to move candidates through each stage of the hiring journey.
The Relode + iCIMS Connector streamlines workflows further to scale businesses faster. Lorraine said, "Relode + iCIMS is a game-changer for us."
Relode Insights: Powering Data-Driven Talent Strategies
Relode Insights is an intuitive, easy-to-understand tool for evaluating labor market data. It collects and curates data for a specific role and location, then clearly presents those insights in a format anyone can read at a glance.
"Today's talent teams need to be data-driven and prioritize an integrated tech stack that creates a seamless, efficient experience for everyone."
Relode Insights empowers HarmonyCares to:
Turn talent acquisition teams into subject matter experts. Harnessing actionable data helps teams attract top talent, drive smarter discussions with hiring managers and candidates, close compensation gaps, and more.
Improve hiring manager credibility. As hiring managers understand the nuances and holistic story behind roles and markets, they can open jobs with more realistic budgets and timelines. They can also leverage this data during the pre-close and closing processes to save money while onboarding high-quality candidates.
Real-time labor market data gives talent acquisition teams the intel and confidence to succeed in the fast-paced, ever-evolving healthcare hiring realm.
Results & Impact
Relode and iCIMS allow HarmonyCares to accomplish all three of Lorraine's talent strategy goals:
To modernize and optimize the infrastructure of her team's workflows and technology.
To elevate and create more enriching experiences for patients, candidates, recruiters, hiring managers, and stakeholders.
To bend the cost curve, driving operational excellence at a more effective cost per hire.
HarmonyCares is making remarkable strides in reducing time-to-fill (TTF). Lorraine confidently states they are now swiftly filling roles, effectively mitigating vacancy rates. Pre-Relode, their average TTF stretched anywhere from 100 days to an astonishing two years. However, today, they've successfully compressed that period to a mere 72 days, with dedicated plans to decrease it further.
Relode Transforms & Elevates Healthcare Hiring
HarmonyCares utilizes Relode + iCIMS to inform and streamline its sourcing strategies, onboard top healthcare talent, operate more cost-effectively, and forge ahead in new markets.
It's the perfect technology stack for talent acquisition teams to overcome healthcare staffing shortages and thrive in today's unpredictable hiring climate.
Harness the Power of Relode Insights for Your Team
Relode combines AI-powered technology with the work ethic of a boutique staffing firm.
Our Subscription Sourcing and Subscription Hiring plans include Relode Insights, which offers a bird's eye view of curated data by role, industry, and location to help teams:
Assess candidate supply and demand
Understand and align candidate timelines
Determine competitive compensation packages
Prevent turnover and retain talent
Ready to see how Relode makes hiring better for everyone? Schedule a demo of our intuitive platform today.
Need more information? Download our 2023 State of Sourcing Report.