Improving employee retention in healthcare starts by attracting the right talent.
Unfortunately, your organization is one of many battling the fierce competition to recruit highly-skilled clinicians, physicians, and nurses.
According to the US Bureau of Labor Statistics (BLS), there will be ~2 million openings in healthcare every year until 2031. And healthcare staffing shortages are estimated to continue well into the next decade.
Highly-qualified candidates now have numerous employment opportunities to choose from. It's also likely that both active and passive candidates are fielding multiple employment offers simultaneously.
So what is your organization doing to show candidates why joining and growing their careers with your team is the best choice?
In this article, we'll explore nine proven recruitment strategies for retention in healthcare. You'll find creative tips to optimize sourcing, prevent candidate withdrawal during the hiring process, keep your new hires engaged, and more.
Let's begin with:
4 strategies to recruit for healthcare retention
Adopting a "recruiting for retention" mindset requires teams to understand what candidates are looking for now and as they work toward their long-term career goals.
These recruiting tips will attract more healthcare talent to your pipeline: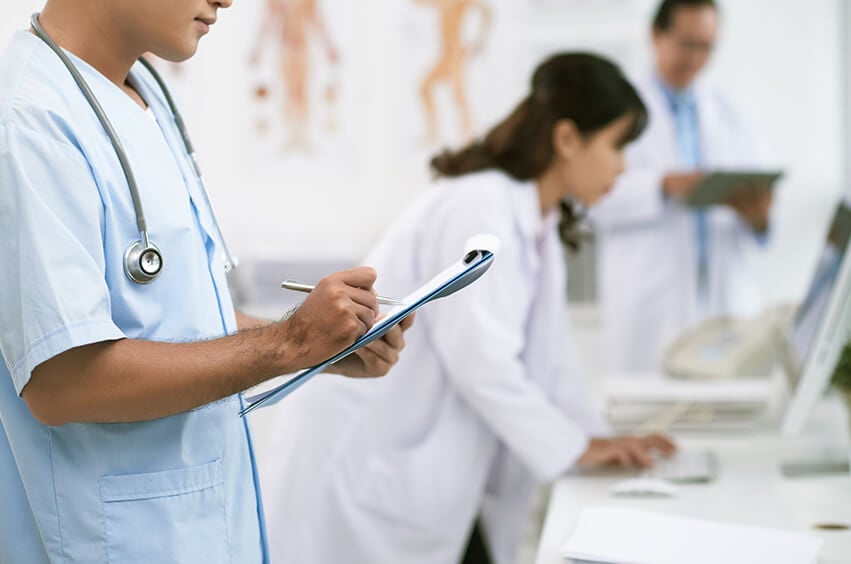 1. Write job listings that stand out & command attention
In a sea of potential opportunities, organizations must ensure their job listings immediately stand out. After all, your job posting may be the first impression candidates and recruiters have of your company. They willl ultimately decide whether a candidate starts the application process or moves on to the next listing that catches their attention.
It helps to remember that job listings are different from job descriptions.
Think of job listings like an ad for your company and the role. It should pique the interest of recruiters and candidates and draw them into learning more about the position and your organization. It should also motivate readers to share the listing or apply.
Job descriptions cover the role's responsibilities, daily duties, and expectations. While necessary, job descriptions should be a manageable amount of your job listing.
To write an effective job listing that sells candidates on applying, include all the tasks, skills, and expectations from your internal job description. Then:
Make a connection with readers. Briefly describe your inclusive company culture, mission, and core values.
Highlight points of interest. Spotlight your exceptional employee benefits, workplace and schedule flexibility, bonuses, career development opportunities, employee recognition programs, etc.
Format your listing so it's easy to scan. Use headers and bullet points that encourage easy reading. Refrain from overwhelming applicants with bulky, difficult-to-read paragraphs of company jargon.
Add a call to action. Gently nudge readers to take the next step in the application process.
Job seekers now prioritize employers that align with their values, invest in their employees, and offer benefits beyond a high salary. Your job listing is ideal for proving that your organization ticks all those boxes.
2. Develop creative sourcing strategies & partnerships
Madeline Laurano, Founder and Chief Analyst of Aptitude Research, confirmed that 94% of healthcare companies are increasing their hires this year, and one in two companies are expanding their investment in sourcing to do so.
However:
58% of those organizations believe their most significant challenge is a need for more recruiting expertise.
One in three companies uses more than five sourcing tools.
38% need dedicated recruiting and sourcing teams.
75% are unhappy with their current sourcing strategy.
Laurano says, "Sourcing is an art and science that requires tools as well as expert sourcers who can help find and engage talent." She believes companies must rethink their sourcing strategy to execute strategic talent acquisition.
To maximize your sourcing resources:
Evaluate your current sourcing tools. Laurano's research shows that 65% of companies don't measure the ROI of their sourcing investments. She advises teams to look beyond product capabilities and compare the results, time saved, and hires made when evaluating tools and providers.
Add a strategic partner to your sourcing team. Hiring teams often spend countless hours sourcing candidates for open reqs and up to two months on hard-to-fill critical roles. Partnering with the right sourcing partner takes this time-consuming and resource-heavy task off your team's list.
To meet your organization's sourcing goals, the right partner will:
Leverage relevant labor market data. They'll forecast supply and demand for a role, regional and national compensation averages, diversity metrics, retirement risks, and more.
Access diverse candidate pipelines. Rather than relying on the same job boards, job aggregators, and sourcing channels, a diverse team of recruiters delivers deep domain expertise in sourcing diverse talent.
Tap into passive candidates. Effective sourcing strategies include active outreach to candidates and proactively engaging passive talent to build pipelines for the future. This results in a much higher ROI than waiting for candidates to find job postings.
Sourcing providers help compare candidates in existing ATS and CRM systems while proactively recruiting and engaging talent for on-demand hiring for future roles. Healthcare organizations secure a scalable way to hire and optimize resources quickly.
3. Streamline your application, interview, & hiring process
The application and interview process gives candidates a preview of what working for your organization will be like. If it seems complicated, long, or confusing, they may fail to apply, accept a position elsewhere, or reject your offer.
So to keep top talent engaged and prevent candidate withdrawal, you must streamline your application, interview, and hiring process. Here's how:
Optimize your application. Research shows that 40% of candidates drop off during the application phase. To ensure a speedy and frictionless process:
Enable resume parsing software, so candidates don't have to enter repetitive information manually.
Optimize your applications for mobile devices.
Give applicants a time estimate and progress bar during the process.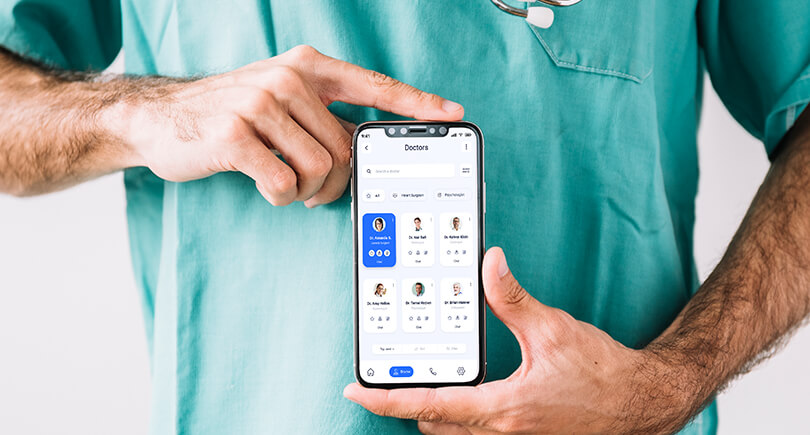 Standardize your interview process. To ensure candidates receive a positive experience with your organization, train your team on which behavioral interview questions to ask, how to assess for company culture fit, and address unconscious biases using an Implicit Association Test (IAT).
Keep communicating. Data from Aptitude Research highlights that:
Only 22% of candidates are satisfied with the communication they receive from potential employers.
Just 21% say they're satisfied with a company's interview process.
One in three candidates has been waiting to hear back from an interview for two or more weeks.
Use your CRM or ATS to acknowledge and thank every candidate for applying. Create a process to reach out to top candidates within 24 hours, provide an interview/hiring timeline, and never leave them in the dark about the next steps.
Assume your competitors are pursuing your top candidates. With healthcare talent in high demand, you should extend your employment offers within ten days.
Whether you reduce the number of interviews, hold all interviews during the same day or week, use recruiters to vet initial candidates, or deploy behavioral assessments and surveys to speed up the process, it's worth getting to the offer stage as quickly as possible.
Collect candidate feedback. Ask candidates what they think about their experience to uncover the top reasons for candidate withdrawal. You'll better understand what's working and what needs improvement to iterate for next time.
4. Source more contingent workers
Contingent or contract workers now comprise over 40% of the US workforce. And healthcare remains one of the most frequent users of contingent staff.
Physician and nurse staffing shortages prompted more than 50% of healthcare organizations to increase the number of contingent workers this year. So your team will be wise to do the same.
Contract workers are quick to hire, require little or onboarding, and are qualified to be productive team members on their first shifts. Leveraging "locum tenens" (or "locums," for short), these advanced practitioners, physicians, and clinicians take short-term assignments to help facilities bridge talent gaps and provide care for increased patient volumes.
The benefits of using contingent workers include:
Access to specialized skills
Improved employee productivity, engagement, and job satisfaction
Lower employee burnout and turnover rates
Consistent patient care and better patient outcomes
The ability to scale a flexible workforce as needed
Another perk of adding more contingent workers may be lower time-to-fill rates. If your team meshes well with a temporary worker, consider extending their contract to permanent employment.
Tips for improving employee retention in healthcare
Improving employee retention in healthcare empowers your team to raise morale and job satisfaction, which directly correlates with higher patient outcomes.
When we examined the cost of nurse turnover, we learned that each percent change in RN turnover costs or saves the average hospital $270,800 annually.
Since it's more cost-effective to retain your team rather than always recruit new employees, we suggest that organizations:
1. Prioritize employee onboarding and orientation
Researchers say 22% of employee turnovers occur within the first 45 days, and 68% of new hires depart within the first three months.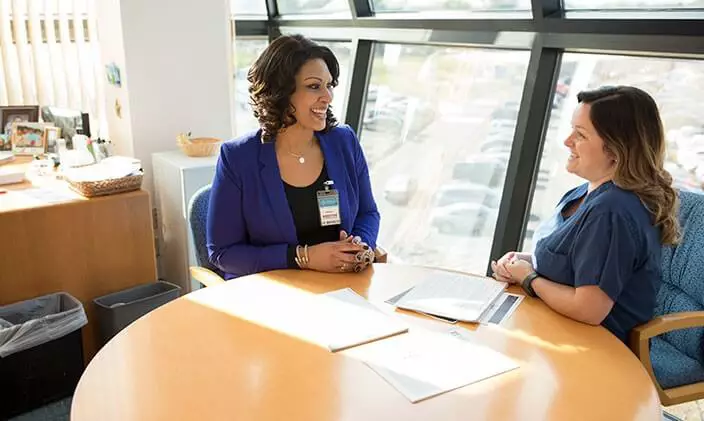 A strategic onboarding process and effective employee orientation minimize new hire turnover rates to improve healthcare retention on day one. They aim to help new employees gain the confidence to excel in their roles and form connections with their coworkers. And they enable new hires to start thinking in terms of "us" as they align with your company policies and company culture.
Learn how to improve your new employee orientation here.
2. Focus your company culture on inclusivity and care
As Baby Boomers retire from the workforce, Millennials and Gen Z candidates are stepping into their roles. These generations prioritize value alignment, i.e., when a company's goals and values align with theirs. They also desire to be part of inclusive organizations that strive for social responsibility and put people over profits.
To demonstrate that your organization is committed to the well-being of your employees and patients:
Show candidates and new hires how you put your initiatives in diversity, equity, inclusion, and belonging into practice.
Recruit for diversity, then promote from within.
Actively engage in volunteering and social responsibility programs.
Enroll employees in DEIB training programs.
Invest in your employees' career development.
Clearly communicate your company mission, core values, and goals on your website, job listings, and employee handbook. Discuss it during your new hire orientation as well. You'll connect with candidates and retain employees who support and align with your vision.
3. Invest in your employees' professional development
Organizations that make learning part of their company culture show that they're invested in their employees' career growth. Statistics illustrate that:
86% of employees would change jobs if a new company offered them more opportunities for professional development.
Employees who receive professional development are 15% more engaged in their jobs and have 34% higher retention rates.
Organizations with a strong learning culture are 52% more productive and 17% more profitable than their peers. Their engagement and retention rates are also up to 50% higher.
Research from the American Association of Critical-Care Nurses even shows that additional certifications contribute to higher job satisfaction, greater peer respect, and increased patient satisfaction.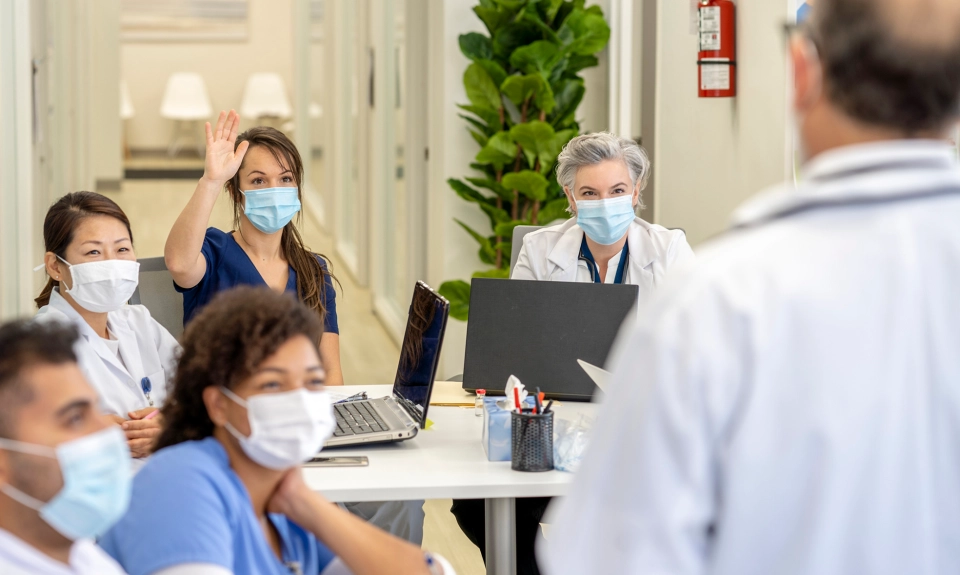 So to invest in your healthcare employees (and retain them):
Create defined career paths and lattices. Help new hires envision their future with your organization by showing them which positions they can grow into and how. Tailor each employee's learning journey to their strengths and career goals. For this to work, you must be committed to promoting from within.
Encourage continuing education. Tuition assistance, student loan forgiveness, and other incentives motivate professional development while strengthening your teams' knowledge and skill sets.
Offer in-person and online training opportunities. Provide stipends for online courses so employees have greater autonomy in their education. Organize lunch-and-learn webinars for employees in any role, such as patient communication and emotional intelligence workshops.
Develop opportunities to upskill and reskill employees. Identify areas for cross-training and other on-the-job instruction to add to your employees' toolkits. Give employees "stretch assignments," which challenge them just beyond their comfort zone so they can grow their skill set and build confidence.
Create a mentorship program. Pair less experienced employees with mentors who can help them meet their personalized career goals and offer advice.
These perks provide a competitive advantage in recruiting and retaining healthcare workers. You'll help them build the skills they need in their current roles and those they'll require to advance their careers with your organization, so it's a win-win.
4. Create employee recognition programs
In our article on overcoming healthcare staffing shortages in 2023, we discussed the advantages of employee recognition programs. Loyalty programs create a fun, interactive way to show appreciation and recognition to your dedicated healthcare workers while boosting employee engagement.
According to research from Gallup, employees who don't feel recognized in the workplace are twice as likely to quit. Conversely:
"Workplace recognition motivates, provides a sense of accomplishment, and makes employees feel valued for their work… Recognition not only boosts individual employee engagement but also has been found to increase productivity and loyalty to the company, leading to higher retention."
By using cloud-based employee recognition platforms, your team can set goals and challenges for employees to achieve. They'll earn points for completing specific tasks or displaying certain behaviors, which they can turn into rewards like gift cards, company swag, local experiences, and more.
Users of WorkTango's holistic Employee Recognition & Rewards platform have seen a 50% reduction in turnover rates.
You can also survey your employees for suggestions about incentives that would motivate them. Employee-led initiatives may include pre-shift meditation sessions or new books in the break room's community library every month. Listening to your employees' feedback can help your team deliver what they need to feel valued and motivated.
5. Offer retention pay when you're understaffed
Retention pay is a bonus your employees receive when you're understaffed to motivate them to remain loyal to your organization despite taking on more work.
While your team sources new hires, your current employees may struggle to keep up with the demands of an understaffed team. This additional stress and pressure leads to burnout and causes many in-demand employees to seek employment elsewhere.
However, statistics demonstrate that 44% of employees believe additional financial incentives would encourage them to remain with their current employer. So offering retention pay shows your employees that you appreciate their hard work during these difficult times and value their commitment to stay.
Here's how it works: Rather than let the money you have available due to vacancies sit on your books, you'll allocate a portion to your understaffed team. Calculate a prorated amount for each team member per pay period and determine how long they can expect this bonus to last.
Retention pay should continue as long as vacancies persist. Once you reach optimal staffing levels, the retention bonus goes away.
Time to recruit for healthcare retention today
According to Madeline Laurano, "Healthcare companies need to think and act differently – breaking old paradigms and embracing tech in a new way."
Like the COVID-19 pandemic and The Great Resignation, continued healthcare staffing shortages will push organizations to explore novel strategies to attract top talent and retain experienced healthcare workers.
Today's tips will empower your team to foster a culture where candidates and employees feel valued, supported, and respected. They'll gain the confidence to grow in their roles and thrive in their careers with your organization, boosting their engagement, loyalty, and patient outcomes.
Whether you need to scale a flexible workforce with contingent workers, improve your candidate metrics, or source top talent for your permanent roles, Relode's unique combination of technology and human expertise will help your team reach its goals.