Whenever a company is going places, it is vital to take stock of where you have been. Relode is no exception. As a company on a fast track for growth, we are taking a moment to look back and review what we have accomplished.
The themes that best describe Relode's 2022 and will be key objectives carrying into this year, are growth and improvement. While those words take on different meanings for each individual and organization, for Relode it has meant a positive impact and change across every department.
As a company we have seen...
1 hire for every 4 candidates submitted to our customers on average
Recruiter NPS Score of 67
Over 800 candidates hired
We're excited to share these accomplishments and other milestones Relode has achieved during 2022 along with our goals for the year to come, including pursuing our ultimate mission of making hiring better for everyone.

Corporate Team
Relode has added several new key positions and team members to our organization over the past year including a Director of Business Development, VP of Delivery, and Director of Marketing. One of the most notable team additions has been Peter Clare, who took over as Relode's new CEO in June. Coming from a tenured background in HR Tech, Peter has already begun making impactful changes across the organization to help Relode become a bold and transformative solution for employers, recruiters, and candidates.
Values & Mission
As we relentlessly pursue our mission of making hiring better for everyone, Relode has embraced a strong set of values that drive us forward as an organization. Those values are: driven, bold, growing, accountable, and caring. Combined, they work to create an inclusive culture where all team members, customers, and Relode users are valued, provided with transparency, and treated with respect.
Relode has established three new Committees and Boards to ensure values are being implemented across the Relode brand. These include a DEI&B Committee comprised of interdepartmental team members to help ensure an inclusive and accommodating company culture for our internal Relode employees and beyond.
We also established a Recruiter Advisory Board where the entire Relode Recruiter cloud was encouraged to apply to have a direct impact on how we grow and improve as an organization. Meeting monthly, Board members receive an early-access preview of new products, tools, and platform updates before they are publicly launched to provide valuable feedback.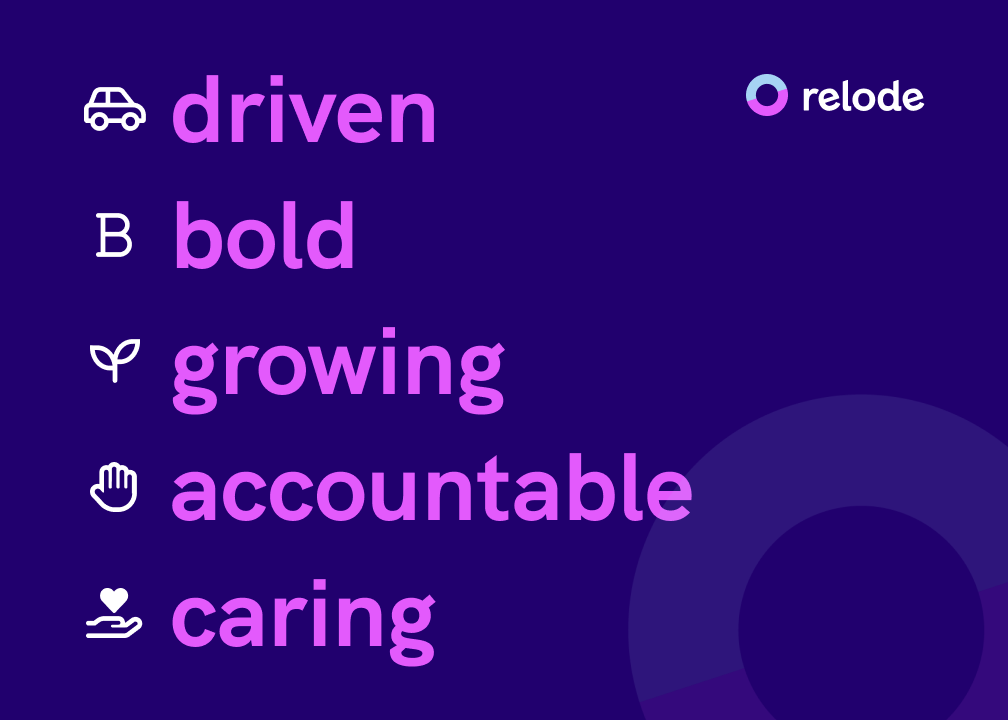 Business Development
2022 proved to be a banner year for Relode and our customers, with major investments made into driving value back to all stakeholders – employers, recruiters, and candidates, alike.
With a renewed focus on healthcare and technology organizations, we're aiming to solve one of the biggest obstacles facing companies today – more jobs than skilled candidates to fill them. Nearly 100 new customers entrusted Relode to provide them with a platform that delivers unprecedented labor market insights and access to diverse, interview-ready candidates they haven't found through traditional methods.
Every investment our clients have made in Relode has been re-invested into acquiring and engaging geographically and vocationally diverse Relode Recruiters with expansive candidate networks, able to deliver top talent for even the most challenging jobs.
We have also continued to invest in our platform, specifically enriching our labor market insights with expanded data sources, and increased real-time feedback from recruiters engaging with candidates, allowing customers to create and quickly adjust their hiring strategies.
With a focus on creating ways to learn from our clients, Relode established a Customer Advisory Board, to meet quarterly on key topics facing our industry, and to help guide our future product roadmap. If you're a current customer who is interested in learning about joining the Advisory Board, be sure to connect with your Relode Client Success Manager.
Through that focus on creating solution-oriented relationships with our customers, the Relode team has been awarded several G2 badges throughout 2022 including "Higher Performer" and "Easiest to do Business With" for three consecutive quarters, all based on reviews from our clients.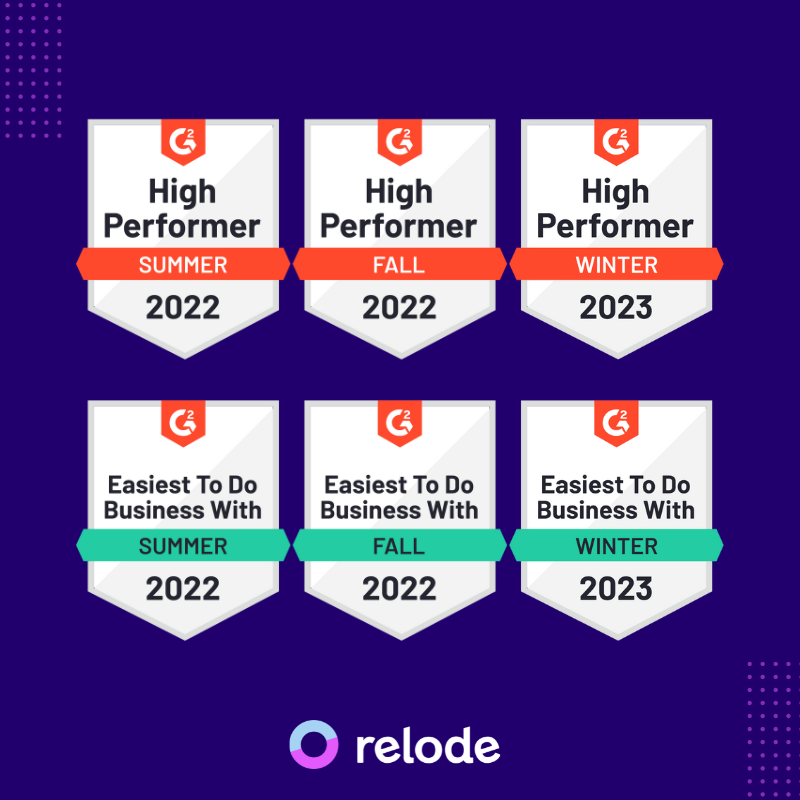 Partnerships
This has been a standout year for strategic partnerships with nine new partners being added, all being aimed at adding value to our recruiters and employers.
We started 2022 with the launch of our recruiter sourcing tools marketplace. This marketplace allows our Relode Recruiters and Sourcers to access discounted, best-in-class recruiting tools. As we work toward making hiring better for everyone, a big part of that is equipping our recruiters with the resources they need to be successful.
Relode is always seeking ways to reduce friction in hiring. This year we partnered with two of the leading Applicant Tracking Systems to provide employers with a more streamlined workflow. Our Greenhouse partnership allows all applicable customers to start their day with Relode-certified candidates directly to Greenhouse. This saves users countless hours by removing the burden of sourcing candidates across multiple platforms. Instead, TA leaders who use Greenhouse are now able to focus their time and resources on what they do best.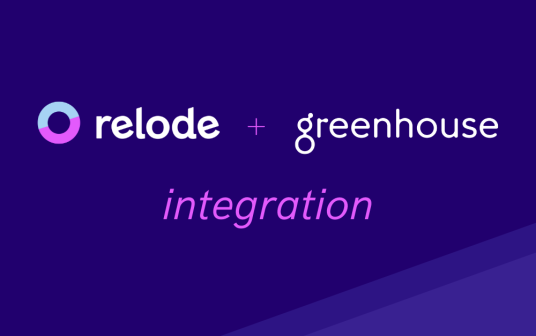 We're excited to announce our newest partnership with iCIMS. As a leading ATS in the market iCIMS was excited to provide their customers with an innovative solution to today's hiring challenges through Relode. Through our partnership, Relode customers who use iCIMS will be able to manage their hiring workflow directly in the iCIMS platform, allowing them to start each day with interview-ready candidates.
Development
1. Integrations
As Relode continues to grow, so does our focus on creating a streamlined and simplified process for customers. Our development team launched the Relode + Greenhouse Harvest integration to do just that. We built a robust job and candidate integration to make it easy for Greenhouse clients to work seamlessly with Relode. Customers can quickly request assistance on jobs where they need additional candidates and receive those vetted and verified Relode Certified Candidates automatically into Greenhouse.
The Relode platform monitors candidate status to keep the Recruiters engaged and updated throughout the hiring process, resulting in a 31% increase in the number of jobs our Greenhouse clients post with Relode and a 36% increase in the number of candidates submitted by Relode Recruiters to their openings.
2. Recruiter Platform Upgrades
Mobile-friendly Platform. As our recruiter community's workflow evolves, we want to continue to make working with Relode as easy as possible. While recruiters historically rely on a laptop to use their various recruiting tools, most communicate with candidates and the Relode team on the go from their phones. This year, we upgraded the Relode Recruit platform, to be mobile-friendly—allowing them quick access to job and candidate information, respond to messages, and move candidates through the hiring process. This change has resulted in an 18% increase in the duration of mobile sessions and a 31% increase in pages viewed per mobile session.
Candidate ownership. We have always sought a balanced approach to candidate ownership that recognized the ongoing efforts of recruiters while maximizing the opportunities for candidates and clients. After gathering recruiter's feedback over months, a new policy that focuses on recruiter exclusivity, ensures candidates are not blocked from applicable jobs, and clients receive as many candidates as possible were created. We have since seen a 7% increase in the number of candidates presented for multiple job openings—giving Relode clients and candidates more opportunities.
Never lose a lead. We've made it easier than ever for recruiters to manage their talent pools and be notified of new opportunities. Because Relode creates a unique record for each lead added to the platform, we introduced 'connections' as a way for recruiters to stay linked to their networks—even when they overlap. Since its introduction, recruiters have now connected to over 40,000 leads to support their sourcing efforts.
A new platform for Sourcers. Relode Recruiters can work from anywhere, anytime, but many recruiters after joining Relode were not embracing this flexibility. We discovered the Relode experience of our part-time working recruiters did not meet their expectations. So, we re-located users who use Relode in a more minimal capacity into our full Recruit platform giving them the same in-depth access and features as a Relode Recruiter who uses Relode in a more full-time and regular capacity.
With this upgrade, we've seen a 47% year-over-year increase in new referrals by Sourcers. Thanks to this increased activity, 25% more Sourcers, have earned rewards with Relode in 2022.
Continued growth and progress toward creating a simple, user-friendly experience for Relode clients, recruiters, and candidates has resulted in several exciting new G2 badges being awarded to our team based on customer reviews including "Easiest to Use", "Easiest Setup", and "Easiest Admin".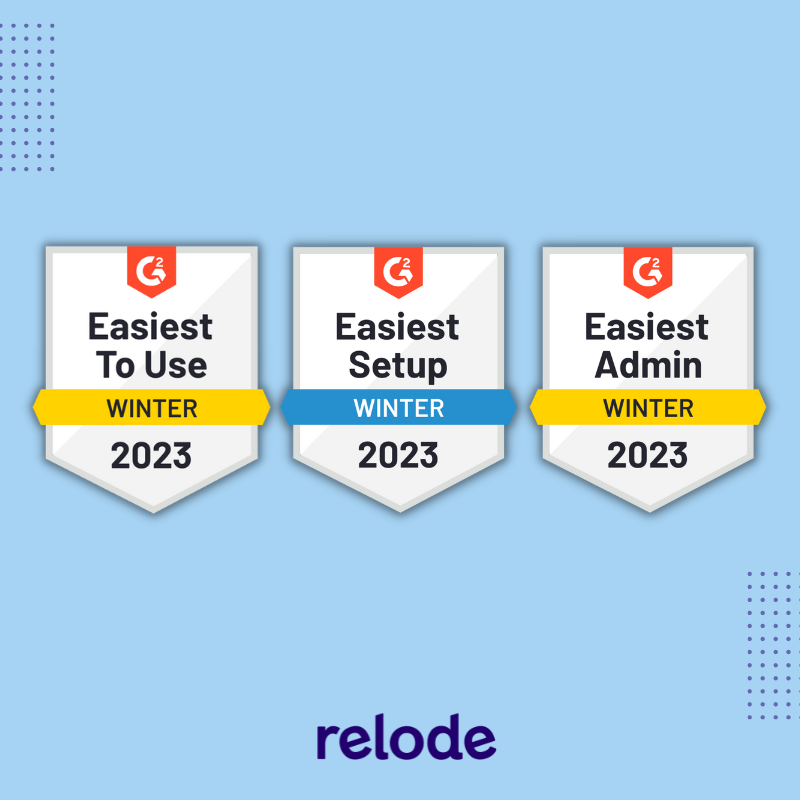 Looking toward 2023
After a productive year, Relode is looking to outdo itself in 2023. With big goals and high expectations, we are geared up for a banner year despite the possibility of a looming recession.
Continue to follow Relode in the news and on social media to see where we go from here!