Relode Adds Teresa Creech as Newest Board Member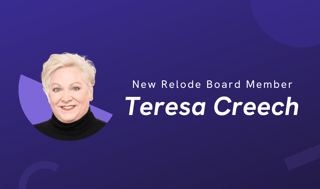 Relode welcomes staffing industry veteran Teresa Creech to Board of Directors.
NASHVILLE, TN – Relode, LLC, a transformational healthcare talent marketplace, today announced the appointment of Teresa Creech, an experienced and influential figure in the Staffing and Human Capital Management (HCM) technology sector, to its Board of Directors.
With more than two decades of leadership in staffing, HCM technology, global Managed Service Provider (MSP)/Vendor Management System (VMS), and Independent Contractor (IC) compliance, Creech brings a wealth of expertise and a proven track record of industry success to the board. Her deep commitment to connecting and creating better experiences for businesses and talent will bring tremendous value to Relode. She has spent her career centered on shaping the world of human capital management. Her achievements have been recognized with her inclusion in the Staffing Industry Analysts' Staffing 100 Hall of Fame.
"I'm excited to work with the Relode Board and management team as they continue their journey of innovation and transformation in the universe of healthcare staffing,"
said Creech. "Their vision and plan have the opportunity to deliver truly unique and valuable advancement in this growing segment."
Currently serving as the Chief Corporate Development Officer at Beeline, Creech is instrumental in accelerating the company's growth, widening its capabilities, and establishing new industry standards through her corporate strategy and M&A experience. Her new appointment to Relode's Board of Directors will extend her influence and insight to an expanding network of healthcare professionals.
"We're thrilled to welcome Teresa to our Board," says Peter Clare, CEO of Relode. "Her strategic and operational acumen in staffing and HCM technology will help Relode and our clients transform hiring for Healthcare organizations. I am excited to roll up my sleeves with Teresa."
Creech's passion for leadership extends beyond the corporate sector, notably her active involvement in the Women's Business Collaborative. As a member and advisor, she is dedicated to accelerating the advancement of women business leaders and fostering gender diversity and pay parity in the workplace.
About Relode: Relode is a healthcare talent solutions company transforming the traditional recruitment model. With a focus on technology and a nationwide network of recruiters, Relode connects top professionals with healthcare organizations in a way that benefits both job seekers and employers. For more information, visit www.relode.com.