How Relode Helped Staff 950+ for COVID Vax and Testing Sites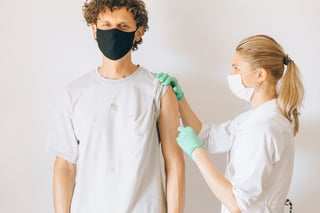 The COVID-19 pandemic happened what seemed like, overnight, and required an immediate and intelligent response to control.
In less than 12 months since the start of the outbreak, research teams around the globe developed vaccines to help ward off and slow down the virus and variants that cause COVID-19 (SARS-CoV-2).
But then another obstacle surfaced: how to distribute vaccines safely to as many Americans as possible.
Since time was of the essence, many organizations received contracts to staff vaccination drives and testing sites nationwide. Unfortunately, this type of high-volume hiring along with the difficulties filling jobs due to recruitment budget cuts from the pandemic created a serious recruitment challenge [*].
That's when one company turned to Relode to utilize our diverse network of independent recruiters for help. And in this case study, you will read how Relode came through for them.
The client
Relode has the privilege of working with one of the top drug-use prevention services for athletic organizations. This company has experience testing athletes and fans across the NFL, NCAA, MLB, NBA, LPGA, Nascar, and more.
So, it was no surprise when they were asked to contribute their expertise and resources to the COVID response across various states.
As an expert in third-party testing administration with a nationwide collection network, the company received contracts to run several antibody and viral testing sites for asymptomatic and symptomatic individuals. They also stepped up to staff vaccination sites across several major cities and states to help in the COVID prevention efforts.
The challenge
Data from one of their highest supported states shows that 6,051,895 first and second doses of vaccines were shipped to providers. Another 3,861,985 first and second doses went to pharmacy partnership programs [*].
This state designated nearly 500 community testing and vaccination sites across their highest impact and populated cities. But, if they were unable to staff these vaccination and testing sites, they would not only lose these valuable contracts, but make it even more difficult for these communities to receive essential resources.
To guarantee the convenience of on-site group and self-administered testing, collection supplies, and laboratory analysis, the company needed to hire experienced professionals in both clinical and non-clinical capacities as quickly as possible.
Their hiring goals included staffing:
2,000+ nurses
Almost 700 administrative professionals
400+ nurse practitioners
50 technicians
The company knew they couldn't achieve these hiring goals on their own, especially given the limited time constraints. But a key decision-maker received a referral to Relode's unique services. And our virtual network of independent recruiters and professionals eagerly accepted the challenge.
The solution
This client chose Relode for our ability to provide immediate, high-volume, staffing needs in the cities and states they needed the most.
Here are the outcomes of Relode's support, along with all the recruiting and hiring data:
speed: new hires started just 14 days after the jobs went live on relode's platform
National hiring statistics show it takes an average of 36 business days for a company to hire talent [*]. But thanks to the Relode network of virtual recruiters:
Our client had 256 independent recruiters working to fill their positions.
Candidates were submitted for review within 6.2 days of broadcasting the job to our network.
It took an average of 10.4 days from posting a job to hiring qualified candidates.
Candidates started their first shift just 3.4 days after their hire date.
On average, it took a total of 14 days to get candidates working on-site from the time this client's job went live on the Relode platform.
As a result of this initial success, Relode continued to help staff various COVID-19 vaccine and testing sites for the company throughout 2021 due to our network's rapid response.
Quality: relode candidates had a 94.1% interview-to-hire ratio
Nationwide, the average interview-to-hire ratio is around 42% [*]. This means 42 out of every 100 candidates interviewed receives an offer for employment. In this case, the Relode network of independent recruiters more than doubled this average!
90.9% of submitted candidates were interviewed.
94.1% of those interviewed candidates were hired.
Relode helped the company hire a total of 962 candidates, including:
326 administrative professionals
512 nurses
118 nurse practitioners
6 technicians
These candidates played a major role in testing citizens and distributing some of the nearly 50,000 daily vaccine doses throughout the year [*].
Trust: why our network made all the difference
Relode successfully completed every new project the client threw our way despite the incredibly tight deadlines and constantly changing COVID enviornment, because our independent recruiter network has something unique:
Professionals who recruit other professionals.
Unlike a traditional recruiting agency, our network of independent recruiters also includes individuals who are nurses, nurse practitioners, administrative professionals, technicians, and more.
They know exactly what a high-quality candidate looks like, because they are one. In fact, many potential candidates are colleagues in our recruiters' network who they've worked with before and trust.
According to labor market research [*]:
Employee referrals are the number one source of quality hires companies use and trust.
Most people discover new employment opportunities through referrals in their network.
89% of candidates said they accepted a job offer faster when contacted by a recruiter or someone in their network.
This is the power of Relode: we incentivize the various types of professionals in our virtual network to refer their friends and colleagues, which then drives more hires for our clients and success for our recruiter community.
Our recruiters receive a referral reward each time they help someone get hired, and our clients receive more well-qualified candidates to grow their team.
Everyone wins with Relode; the nurses earned a referral reward, their colleagues found their next great opportunity, and we helped our client expedite their hiring process and deliver on their high-volume contract needs.
What hiring goals can relode help your team accomplish?
Relode helps awesome brands build great teams.
Our network of recruiters helped this client hire nearly 1,000 high-quality candidates on a deadline with zero wiggle room. Partnering with Relode allows you to have access to our diverse virtual recruiting network and hiring insights to find top talent, on-demand. So, let's work together to create a plan that helps you scale your hiring, quickly.
Click here to learn how our recruiter network quickly sources the best candidates or head over to our customer success stories to read why other top companies have turned to Relode as their hiring solution.