How relode helped one team find top healthcare providers in new markets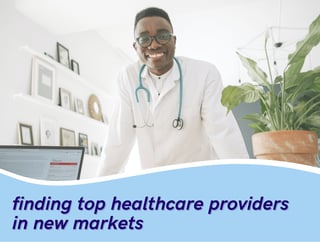 Recruiting top talent remains one of the most competitive and challenging tasks for healthcare organizations.
The ripple effects of the pandemic burnout wave are still causing uncertainty. And a recent Mercer report revealed that more than 6.5 million healthcare workers are expected to leave the field over the next five years -- with just 2 million people slated to fill their spots [*].
Despite pandemics and mass retirements, demand for qualified medical professionals continues to skyrocket.
Teams hoping to add healthcare employees to their ranks need the most up-to-date labor market data and top onboarding experiences to meet their goals.
And that's exactly what the employer in this case study accomplished with Relode's help. Keep reading to see our formula for success.
Say hello to our client, a trailblazer in holistic medicare experiences
Our client's mission focuses on improving the care and experience of patients on Medicare while striving to reduce their costs.
Seems like an oxymoron, right? Better care at a lower price? But it's true.
Our client's business model partners local primary care doctors from different fields of expertise together to focus on the whole care experience for each patient.
They provide doctors with real-time insights into each patient's medical conditions, so they can adjust their care plan as needed. They also offer additional resources like care management teams and administrative staff who are passionate about transforming care for underserved populations.
This holistic approach to care reduces redundancies and gives every provider a more accurate view of each patient's health. So it's no wonder they've seen improved patient outcomes and better patient-provider relationships as a result.
Bonus: their method also saves the patients time and money. This is an essential piece of the puzzle for individuals on Medicare, who are 65+ years old and on limited fixed incomes.
Our client's successful approach led to their expansion into new territories. And they're even hoping to launch a Medicare Advantage Plan designed for people living with chronic conditions.
The only downside to their sustained growth? Struggling to find the best healthcare professionals to join their mission and expand their team.
Expansion growing pains

📈

According to the Centers for Medicare & Medicaid Services (CMS), there are over 63 million Americans enrolled in Medicare as of October 2021 [*].

Our client began expanding into new territories to provide care for more of these patients. However, their current staff was unfamiliar with the labor landscape in these new regions.

They needed a larger network of healthcare providers, but didn't know the markets enough to be competitive. Even worse? When we first began our partnership, our client didn't have any recruiters to support their needs.
Fortunately, they have relationships with other companies already using Relode for their hiring needs. So, they decided to see what a diverse and specialized community of recruiters could help them accomplish.
The relode 3-step action plan
Since this client intended to build their teams in new regions quickly, they contracted with Relode to help support their permanent hiring as well as utilizing the Relode Insights tool. Together, we crafted a three-step plan to help them start filling their positions. Here's how their decision paid off:
1. Leveraging relode insights for hiring and employee retention
Relode Insights gives teams real-time labor market data. It highlights the supply, demand, and diversity of candidates in the areas our client was interested in recruiting for.
Insights helps teams answer questions like:
how difficult will this role be to fill in this market?
what other companies are we competing with for talent?
what's the right compensation for this role?
Our tool displays each position's regional and national salary ranges, so hiring teams can craft competitive compensation packages based on the current market.
Our client says they use Relode Insights daily. Before broadcasting any jobs, they check Insights to ensure they're recruiting in the right location for their needs.
Using data on fair-market compensation by location helped them to put together competitive offer packages for candidates that drive success and retention. This ensured that when their jobs went live, they would be attractive to candidates from day one.
Want to see how Relode Insights works? Click here for a quick walkthrough of our innovative, easy-to-use platform.
2. Harness the power of the recruiter community
This organization knows how valuable crowdsourcing can be when it comes to healthcare. Their team of providers work together on behalf of patient needs, pooling their vast knowledge to boost outcomes.
So when they put the largest community of independent recruiters to the test, they knocked it out of the park.
Our client began by recruiting for eight locations, broadcasting 32 roles in verticals such as:
administration
credentialing & privileging
finance
healthcare IT
advanced practitioners
pharmacy
recruiter
sales & marketing
86 recruiters scouted their specialized candidate networks for the perfect fit. In total, Relode submitted on average 100+ candidates to their team in less than a week of each new set of jobs going live.
Our client then found 22% of those candidates fit for interviews and ultimately hired 20% of them. It only took an average of 48 days from broadcasting a role to making a hire.
3. Easily scale hiring with relode + ats connectors
Since our client lacked internal recruiters, that was one of the first areas we helped them tackle. Our recruiter community sourced two awesome recruiters for their internal team to begin supporting their hiring efforts immediately.
While that may not sound like much, there's no need to add an army of recruiters to your company's payroll when you have Relode on your side.
As a growing business, these two internal recruiters utilize Relode when their hiring needs are outside their expertise or beyond their capacity.
If they need to source candidates in new territories or volume-hire for a specific location, they can always turn to the community of Relode recruiters with experience and connections in those markets to significantly speed up the process.
Relode helped this team scale and continues to boost their hiring efficiency. The Relode dashboard keeps candidates organized and integrates with some of the most popular applicant tracking systems (ATS). This allows hiring teams to better manage candidates in their pipeline without the hassle of having to utilize multiple systems.
This particular client utilizes Greenhouse to reach, track, and nurture the top talent our Relode recruiters send them. The Relode + Greenhouse Connector offers seamless integration for maximum efficiency. No more candidates slipping through the cracks on your watch!
psst! Check out how the Relode + Greenhouse Connector works here.
At relode, we're making hiring better for everyone
Collaboration and care coordination are key components of our client's model, and we stand by those goals too. Relode has the largest community of local and specialized recruiters dedicated to providing clients with the best candidates across all industries and job markets.
So let's create a plan to solve your hiring challenges faster, smarter, and more cost-effectively.
See how Relode brings innovation to hiring and how we can help you start building a great team.